» Server Navigation
New to Dodian.net? Click here to register and here to play!
There are currently 0 player(s) online!


Development Update!
Jul 09, 2021 - 10:17 AM - by Nozemi
Hello again! I know things are taking long as per usual. I do however want to update you on whatever little progress I've made.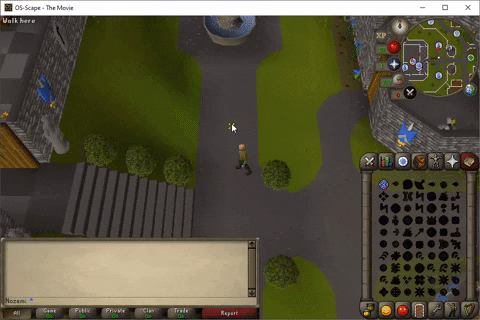 Techincal Explanation
Above GIF is from the server I'm working on. I'm quite sure this is what we'll be landing on. OSS is a decent source, however I've come to hate Quasar (which is a library for handling lightwieght threads), however it can't work with anything beyond Java 8 without creating issues, it's also incredibly slow. Even on my beasty system it takes 2-3 minutes to compile.

To solve this issue, I started a fresh project, then I started moving necessary code from OSS to my own project. This also meant I can implement Spring so I can leverage Spring's dependency injection, which will make it easier to implement content. Then I can also look into a system similar to the one I designed for the Elvarg base I started.

Another bonus is that I can upgrade Java to newer versions, right now I'm using 12. Same for Gradle, I can use Kotlin DSL (which I prefer by far) and I can use newer Gradle versions without creating any issues.

What does all the above mean?
The above means that I'm now able to start working out the necessary stuff to add content to the server. Considering how little content Dodian really has, it shouldn't be that much work, as opposed to a clone of OSRS with all of it's content.

Right now I need to figure out how to replace the Quasar library, because all the content relies on this. If this is done incorrectly, it'll likely lag the server, and we don't want that.

Right now I'll however be focusing on getting the most basic features working. There is a lot of missing functionality as a result of me only copying the very necessary code to be able to login and walk around.

A list of basic fundamental features I know are missing:
- Chatting (private and public)
- Interface actions (like logout button, run toggle)
- Friends/Ignore list

When I get more of these basics working, I'll be sure to notify you of a public alpha where we can go ham and break everything!


1 Reply | 836 Views


Current Status of Development
Jun 24, 2021 - 7:13 PM - by Nozemi
Hello Dodian Community!

My Personal Situation
I know there is little to nothing happening right now, and Dodian is in as bad shape as ever. Personally I have a lot to deal with in real life at the moment. Long story very short; I'm in the process of working out some issues that made me unable to work, and will then be looking for a new job.

The same reason I was unable to fulfill my real life job, might also be the very reason I've been so unstable with Dodian. I'm quite certain I have ADHD, and I've gotten an appointment to get that checked out. If I can treat that I also hope I can focus on things I want more than I can at the moment.

Dodian's Status of Development
Despite my personal situation I've picked back up the website work for our new website. I know some of you might disagree with me on that being the right place to focus our energy at the moment. However there are two reasons why I do that.

Reason 1; the website is the face of the project, it's the portal that connects everything together, so to speak. Right now it's a nightmare to maintain. Resulting in lack of functionality, such as voting.

Reason 2; I'm a lot more experienced with web development than I'm with RSPS and Java development, which means it's also easier for me to focus on the website end of things while we still figure out what to do with the server.

Though when we have a new website with the most necessary features, we'll have a foundation for managing Dodian in a whole new capacity. This will allow us maintain our player base and community in a more professional manner than right now.

Staffing Situation
I also know some of you feel that staff is very absent, and that's a fact. We're not trying to hide that fact. The reason is simply because I personally don't feel like adding, removing or tweaking our current staff team matters much in the long run.

With the new website I'm planning to create a help desk system. Reason is mainly because I feel like we lack on the delivery of professional support. With a help desk system such as the one I have in mind, any action taken against a player will open a ticket automatically.... [Read More]


14 Replies | 4,896 Views


Bug/Feedback Collection
Apr 26, 2021 - 6:23 AM - by Nightleaf
Hey everyone,

I am Nightleaf for those who don't already know who I am. I was a player in the Dodian community back during Ub3r 2.0 and 3.0 and later developed my own Dodian remake as well as my own servers over the years.

As I am now stepping into my developer role here at Dodian, I would like to get some information from all of you about the current state of things, what you think about the experience and what you think should change or not with the server.

To accomplish this goal I am asking any of you who play what bugs there are, what you don't like, any specific suggestions you would like to see implemented (if a suggestion already exists feel free to link to the thread or post in this thread). Alternatively, you can post in the #server-feedback channel that was created for this purpose.

If you don't post in this thread or on the Discord #server-feedback channel its likely I will not see it.

In other news, I have begun some slight clean up of the current live server with a focus on fixing issues I can see already. My goals are to improve the current experience and fix those issues that you post in the relative locations I spoke about.

Issues already posted:



Quote:
Weapon in weapon slot being invisible
Legends guild glitching outside the building
Spinning wheel house in seers is super buggy, can see both floors if ur on bottom floor, if you're on 2nd floor, the ground is invisible
Thanks for reading,

Nightleaf


2 Replies | 4,730 Views

» Discord Widget
Join Discord

» Recent Threads

Trade/Sell Disabled

Last post by
supertje
13 Replies, 3,526 Views

Jabast's Bank & stats...

Last post by
Kash
16 Replies, 29,310 Views

Had Some Fun!

Last post by
Centaurian
7 Replies, 1,213 Views

Yet Another Development...

Last post by
XCloudX
18 Replies, 3,327 Views

Kash's current goals:

Last post by
Jabast
1 Replies, 400 Views

please fix this forum

Last post by
Kash
4 Replies, 1,363 Views